The Basement
I did manage to spend about a hour on my basement. I emptied two garbage bags of stuff but aside from a noticeable clearing of the floor (you can now walk unimpeded to the washing machine), there appeared to be little noticeable improvement, hence no photo.
The Living Room
On the other hand, I did manage to get some photos of my living room: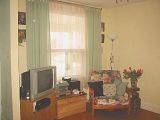 I have a small space which shows clutter almost immediately. I've managed to pick up everything that was in corners and on the floor. Somehow the floor is a magnet for stuff. As you can see by the window, I still have a wooden chest that acts as a "catch all" for stuff. I've tried to organize the stuff on it as best as I could. My plan is to remove it and shift the contents elsewhere.

My focus now is on making the room cozy. I'd like to buy a rug and proper coffee table(s). I'm currently selling some furniture to add to my "home improvement fund". I'm also not sure what to do with the big empty "wall" that's beside the flowers in the vase. Hmmm...

Now the other side of my living room: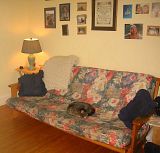 I need to replace those "dingy" blue pillows. I sewed them myself about 20 years ago and they used to match my "old" couch. My plan is to sew about 6 or 7 pillows for this couch to make it more comfortable. Notice my kitty? I can always tell the sign of a clean room as he likes to curl up in clean spaces.
I find the photos somewhat misleading. Considering the amount of work I accomplished here, I would have figured there would be more to show. I have to say that I notice photos show "everything" and it doesn't look too bad. Maybe that's something...
My living room is the first place people see when they enter my home. There's no indoor porch or landing so once you step in, you're there. Keeping my front door area uncluttered has always been a challenge.
It keeps all the shoes self-contained. I used to have about 30 pairs of shoes at the door. Now, if the shoes don't fit in the cubby, I move them into storage. I find that 6 slots are sufficient for 4 people. I can often fit more than one pair of shoes in each slot. I placed
baskets
in two of the cubby holes to hold hats, scarves and mitts in the winter. I do find that the top of the shoerack tends to be a catch all for backpacks, etc., but I clear this daily. The surface makes a nice "resting place" when you come in to take off your boots. One day, I'd love to put a cushion on top.
As for the coats, I hang them on pegs in the hallway going downstairs to the basement.
I find this arrangement keeps my front door area clear.